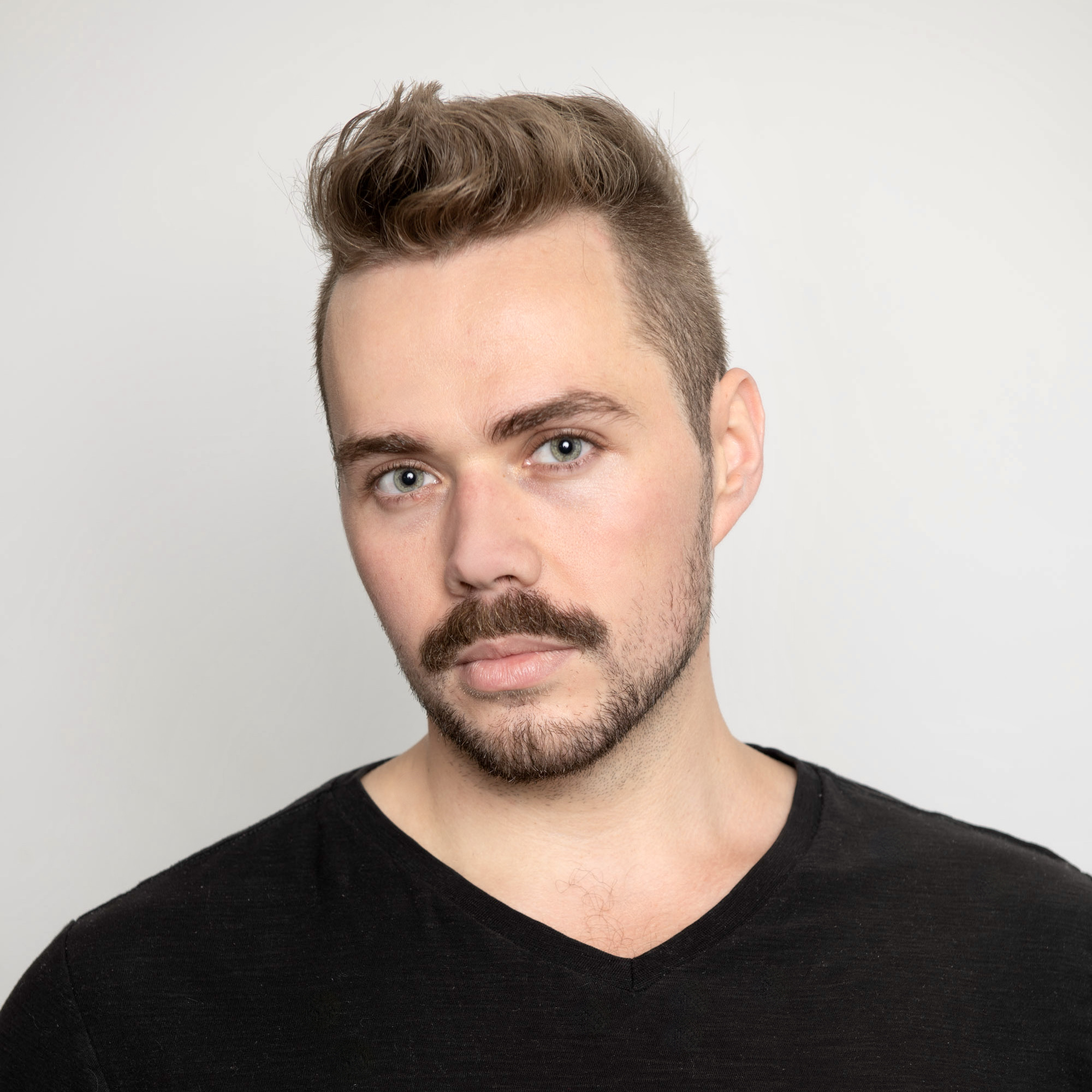 Morgan Archer
UX Designer
Head Start Homes
A Zen way to save
Everyone deserves a place to call home
9 Week project - Prototype, Report & Presentation Deliverables
Headstart Homes works to assist people who are in social housing save a deposit and move into their own home.

I came into this project after the research phase was largely complete and was tasked with creating an advanced prototype app designed to assist people with saving money and help them in their goal to get into their own home. The previous research and stakeholders recommended gamification systems and habit building services as examples of where to head.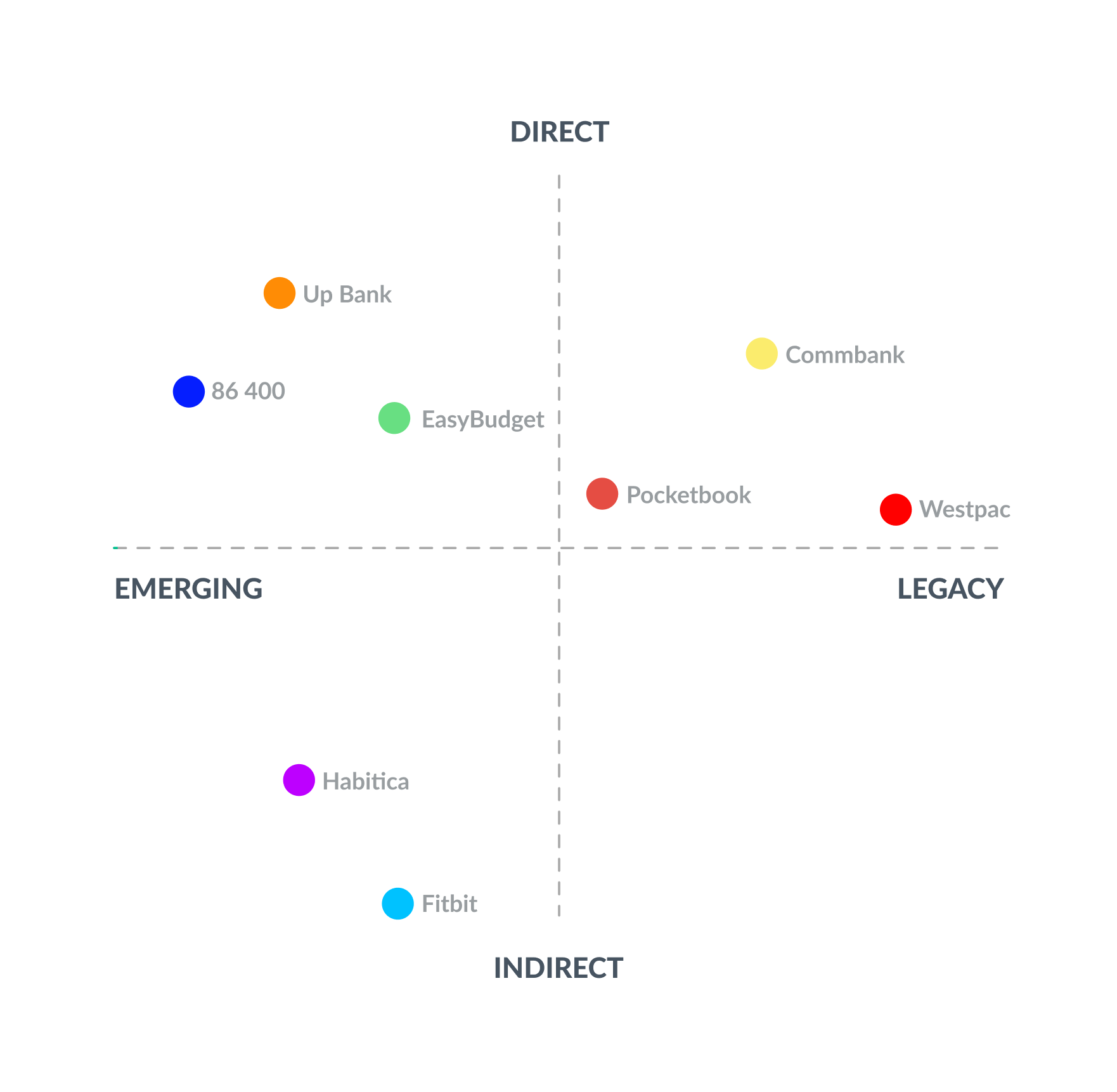 Competitor Analysis
In order to understand the market that my concept would be competing with I looked at a variety of other apps and services that have similar goals:
Habit Building
Fitbit

Apple Fitness

Habitica
These apps included features such as Logging days, streaks, completing daily goals and providing the user with responsibilities.
Money Tracking
Pocketbook

EasyBudget

Fudget
I found these tools quite complex and seeming to be designed for people with a more intense interest in finances.
Banking
Westpac

Commbank

Volt

Up

86 400
These apps are general-purpose for the most part with neo-banks such as Up and Volt providing new, more gamified experiences.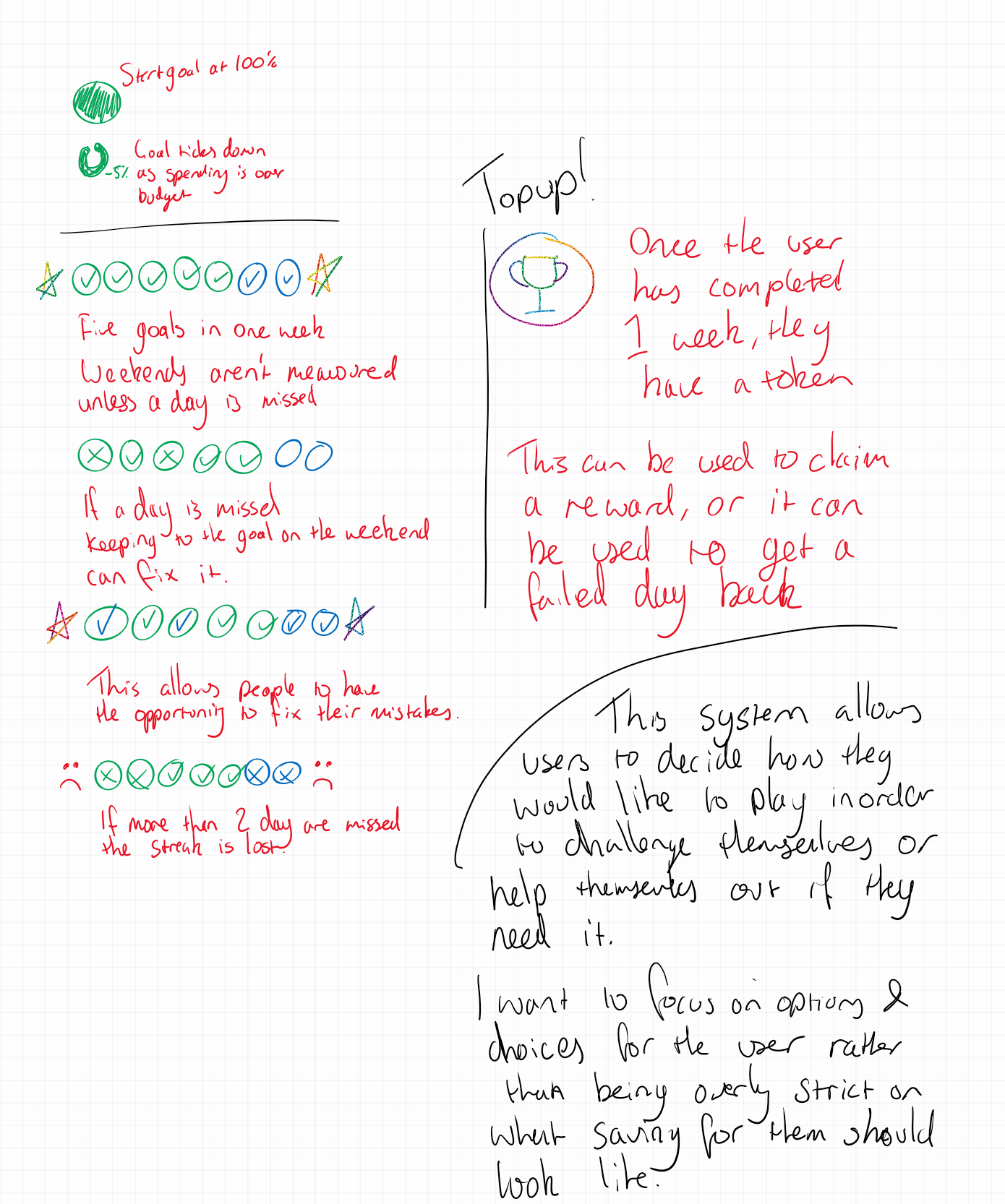 Sketches & Gamification
Coming from a relatively unique background with a degree in videogame design; I wanted to explore some riffs on tradition gamification techniques as part of my design.
Most gamification systems give you a daily goal to accomplish. I flipped this by starting the day at 100% and the goal was to keep it there.

People are information overloaded these days and having another app to check in with every day could get caught in the noise.

I iterated on this system as I worked through the wireframing and prototyping phrases.

All the habit apps I looked into would break your streak if you had a bad day. That's a bad feeling and I wanted to find a solution around that. I explored:

Forgiving Mechanics

Options for the user

Making up mistakes later in the week

Trusting the user and giving some wriggle room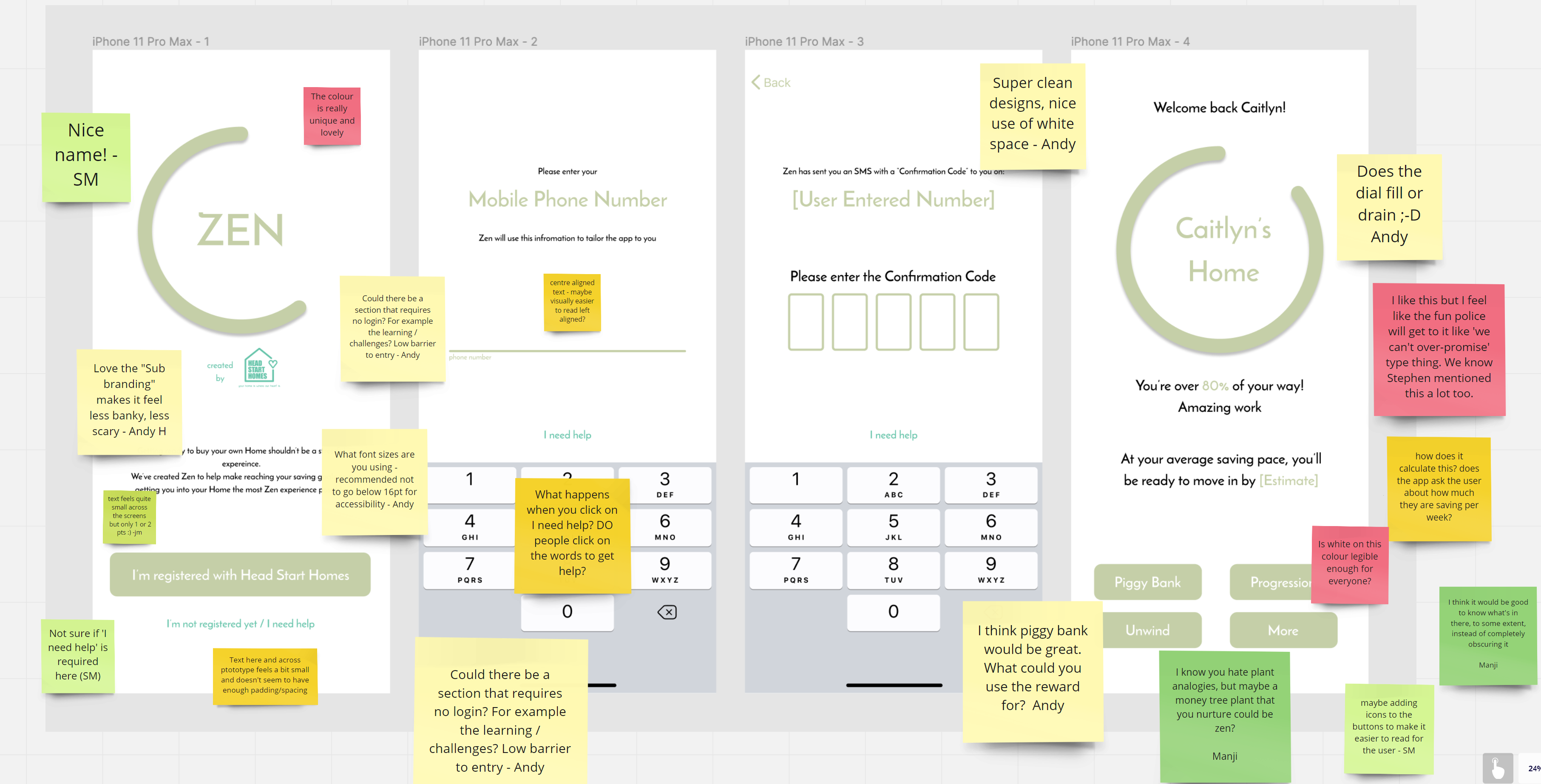 Wireframes
My concept focused on:
Keeping things simple

Keeping stress down

Making saving enjoyable through gamification
Key details:
Saving is already a stressful experience, creating an experience that adds stress is a failure.

I find more inspiration in higher fidelity wireframes as it helps me form a more holistic idea of the project.

For this project, I worked within Figma.

I utilised the rest of my team for design feedback during this stage.
Feedback & Iteration
Here is a quick outline of the feedback I received from my team after my first series of screens and how I worked to resolve them:
Concerns about font size - Raising to 14pt minimum
Issues with readability due to colour scheme - Adding a high contrast mode and adjusting buttons & adding background
Confusion about the dial rotation - Checked standard and polled Twitter. The vast majority of people prefer it to fill clockwise rather than anticlockwise – Reversed dials
Guidance and explanations needed - Added full tutorial & alternative setup experience
Confusion about the wording in places - Adjusted some wording in the Tutorial copy for clarity
Almost 90% of those surveyed found that breaking a streak was demotivating - Options to "Rescue" needed – Added TopUp functionality. Adjusted Free-Weekends functionality.
Positive feedback on the "To Win Do Nothing" idea - Lifting the concept from how World of Warcraft modified their "Rested vs Normal" experience system.

General changes:
Added a colour fade in order to breadcrumb scrolling better
Added settings menu to the main screen
Modified the gamification system to allow more user choice and options. Choices between rewards and help.
Added themes as a good reward system, enticement and flavourful choice for users
Tied themes back to the theme of relaxation
Added notification customisability – Allowing users to chose how they wish to be engaged with the app depending on their own needs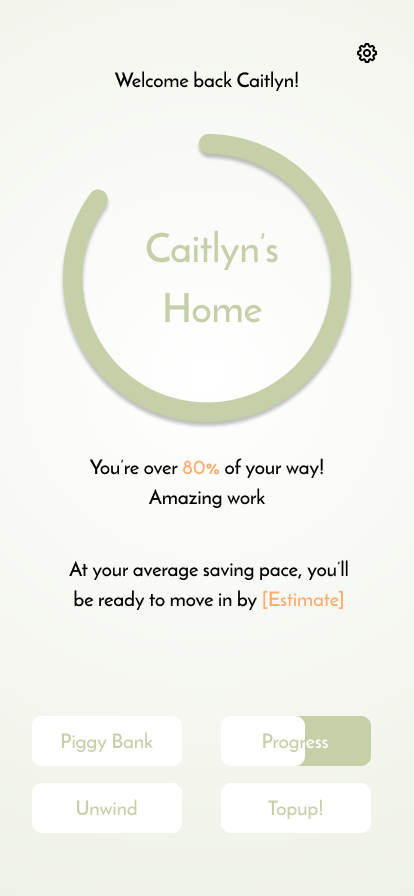 UI Design
My design for Zen centred around keeping things simple and clear. I went with a semi-neumorphic design with an emphasis on typography.
I intentionally obfuscated dollar amounts as I feel they act as a distraction from what the actual goal of the app is, which is to build good habits.
Key details:
Originally I was using a circle that filled counter-clockwise, but discovered that this was quite uncommon and reversed it.

My design incorporated elements of Apple's Human Interface Design with elements of Microsoft's Metro Design Language.

It's very important for me to keep apps usable with one hand and so most interaction elements are at the base of the screen.

I designed primarily for iOS, but the design is easily adaptable for all platforms.

Each tab is siloed and required returning back to the "Home" screen.

This is a reference to the core iOS interaction system of always coming home.

This draws focus back to the core goal with every interaction.

Part of my desire with this system was to help the user focus on what they wanted to do in the app and get in and out as fast as possible.

My design is simple and purpose-built. The intention is to be a tool first and foremost and not keep the user in the app any more than they need to be.

Custom colour schemes were also added in order to personalise the goal and create a closer bond with the user.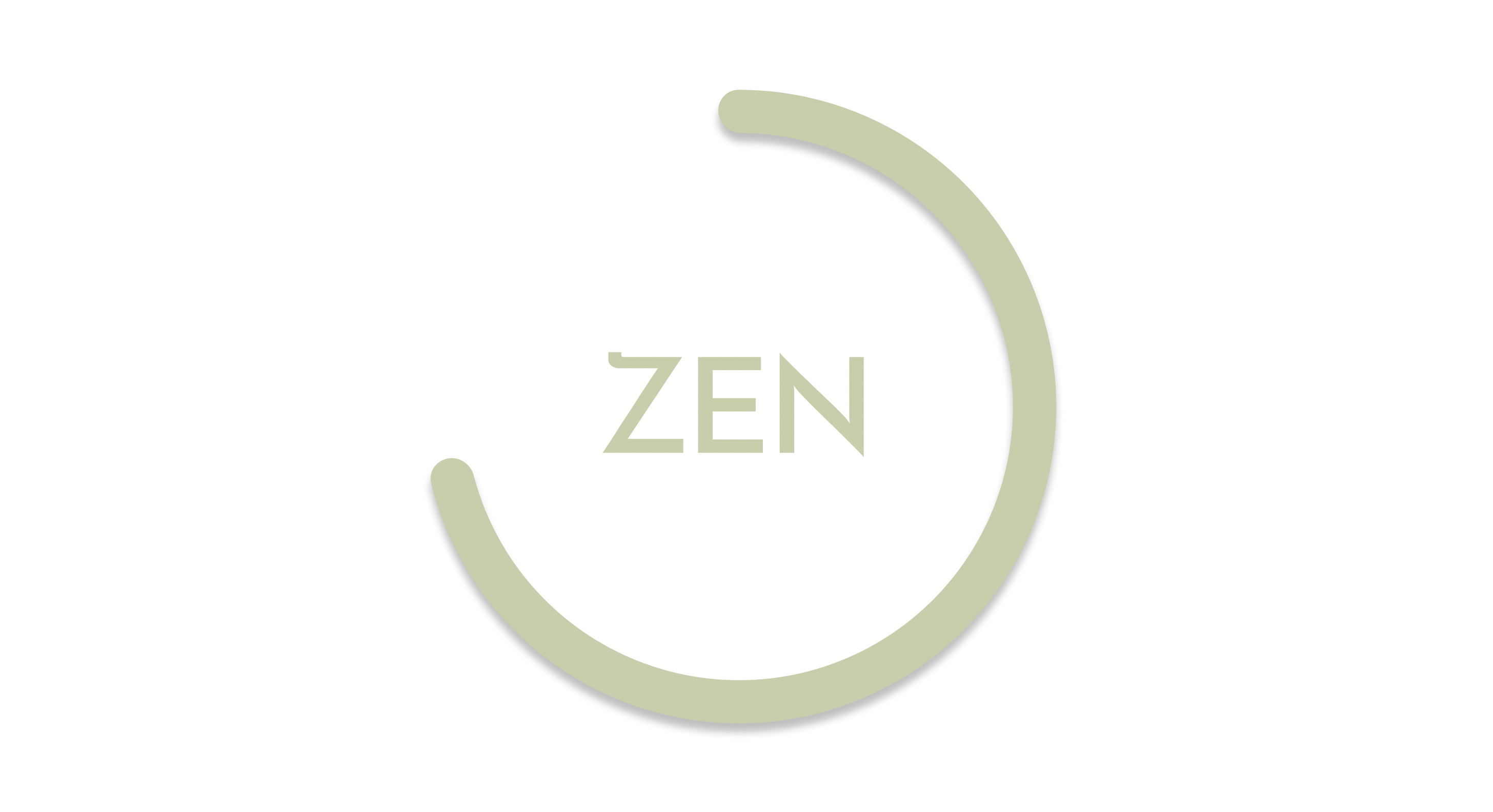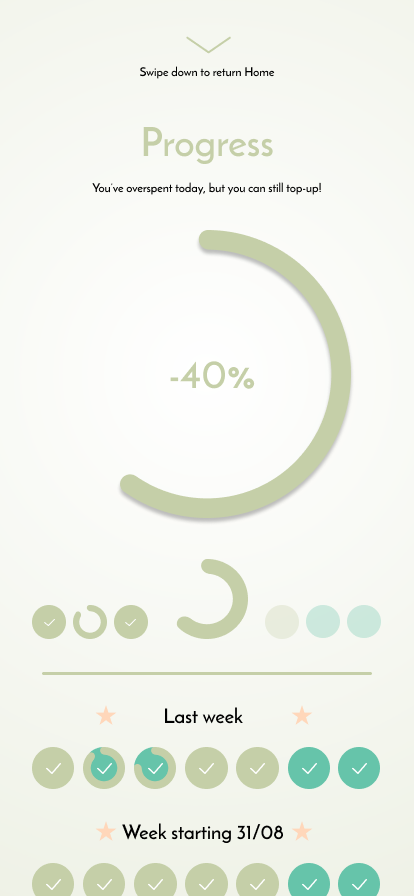 Gamification system
There are 3 core aspects of Zen's gamification system:
Progress - Ensuring you're keeping to your budget each day
Piggy Bank - Tracking your rewards from completing streaks
Rewards - Spending your reward credits
When a user finishes a full week (7 days but 5 is still safe) they gain a reward credit. This credit can then be used to repair a day that they may have fallen short on, or spent on rewards.
These rewards are randomised and include opportunities to treat yourself outside of the app as well us unlock features within the App.

My goal was to ensure people can use their previous hard work to continue their streaks and make up for days that might be harder.

I want to keep people going with their goals and to not get discouraged if they have a bad day, so the ability to recover has been baked into the system.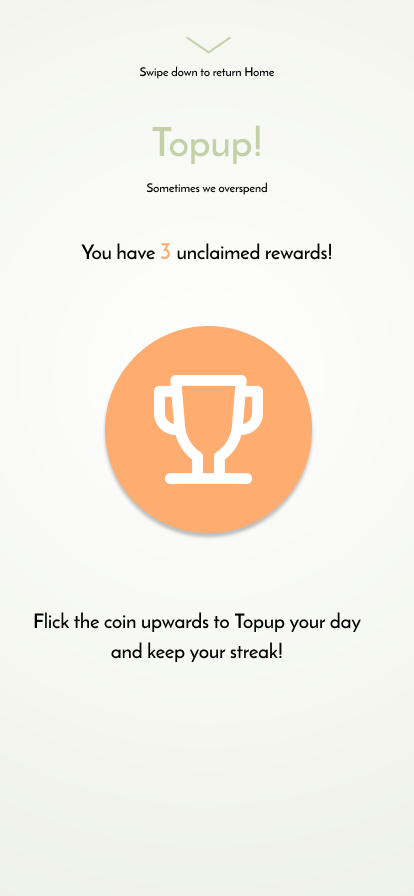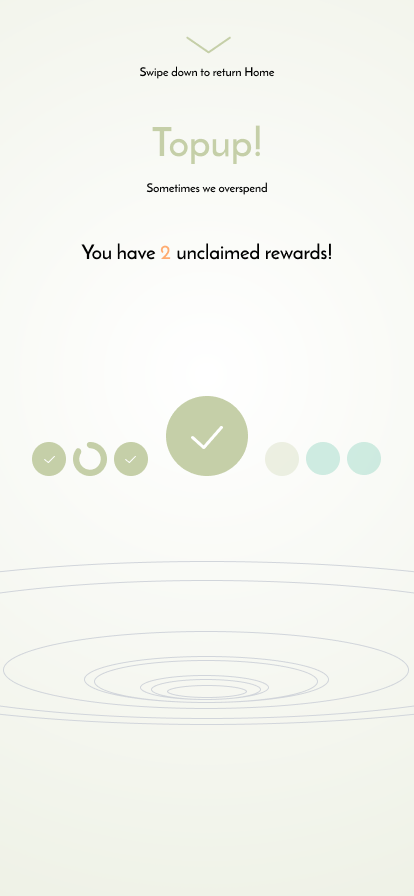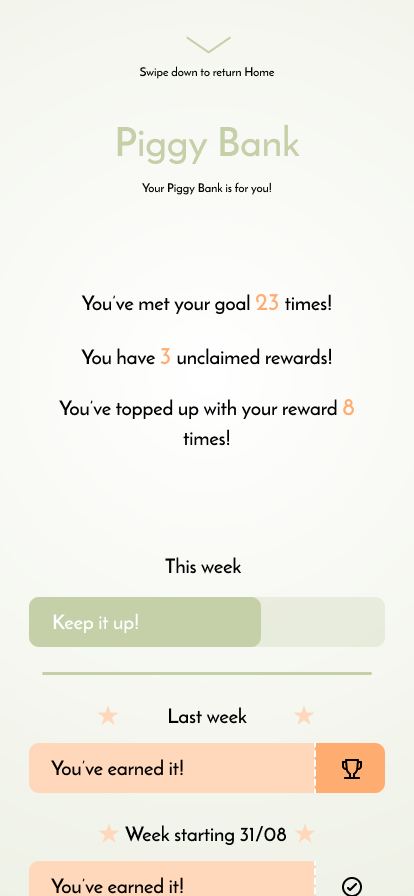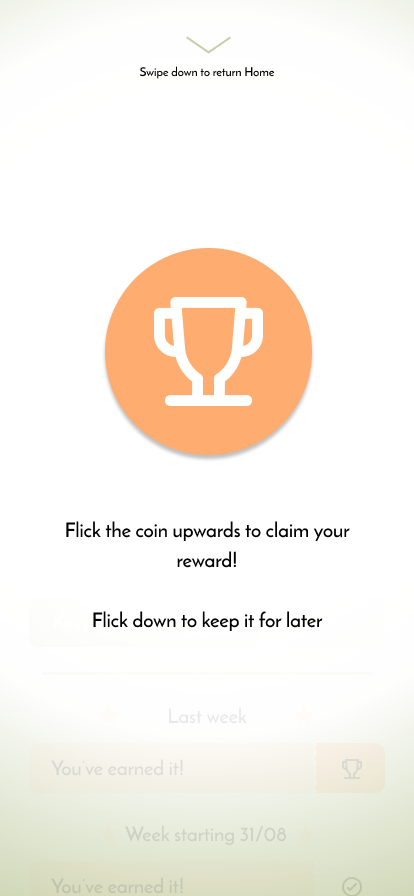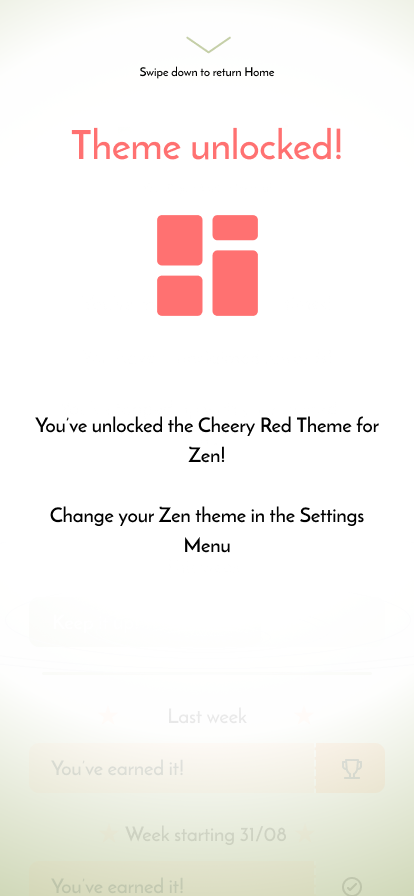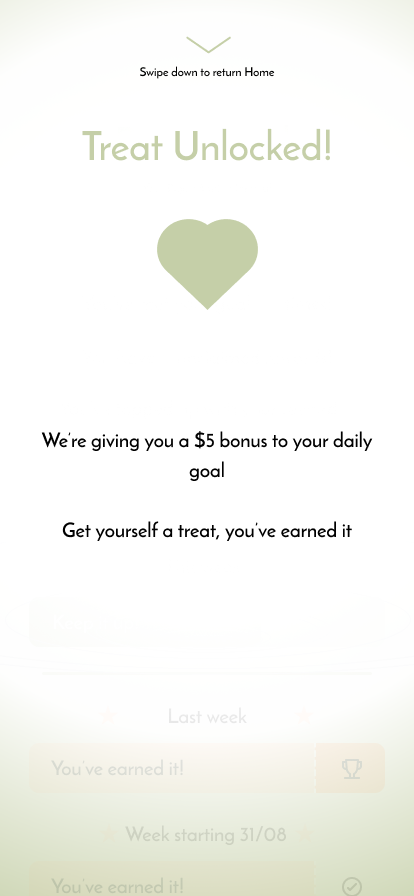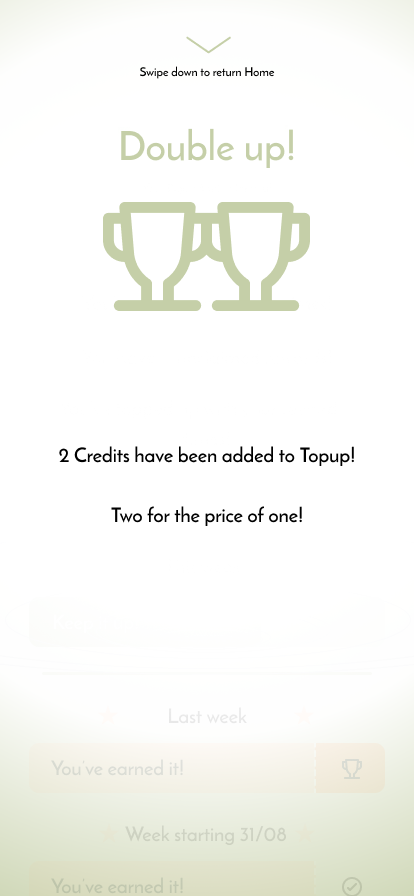 "Saving isn't about money, it's about habits"

My closing thoughts.
Something I really enjoyed about this project was being able to explore solutions to the the discouragement caused when users break streaks in gamified habit builders. Being able to flex some skills from my game design degree was appreciated and I really enjoyed working on a project that has a real potential to help people find their first Home.

My design didn't factor in accessibility as much as I would like, however due to time limitations I, unfortunately, had to relegate such research and changes.
Accessibility is very important to me and working closer on such details is something I'd have liked to have been able to spend more time on.