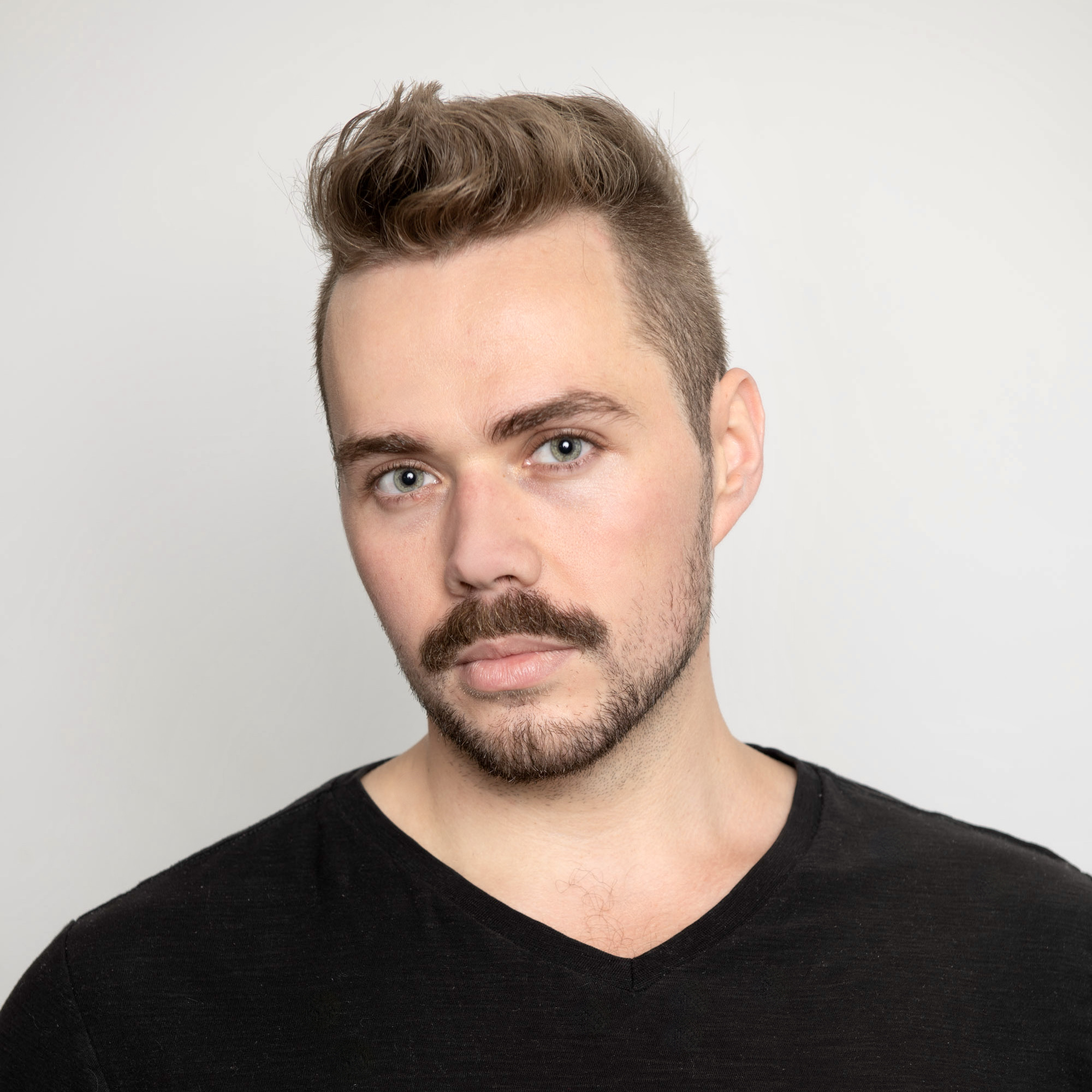 Morgan Archer
UX Designer
MoneyGirl
Financial education for everyone
Making finance more accessible.
8 Week project - Research Report & Presentation deliverables
MoneyGirl was created with the goal of delivering financial workshops for young women. Founders Mariam Mohammed & Melissa Ma found that young women were often finding themselves unsure of how to best manage their finances within an industry that all too often solely provided bland and generic financial education.
My involvement in this project was to research MoneyGirl's target market and current systems and then produce a research report outlining my finding and making recommendations.

The report was created to answer 4 major points:
What price are MoneyGirl customers willing to pay for an online offering?

How can MoneyGirl maintain the quality of their service when delivered in an online context?

What factors should be considered when designing for online delivery.

Does MoneyGirl's existing digital presence meet the needs of its target audience?
Identify online opportunities
MoneyGirl has a strong in-person offering. Branching out from what is possible in person will allow the business to reach more people due to removing the physical locations requirement, but it's important to move online with the right strategy. In addition to this COVID19 has created extenuating circumstances which have been making physical access even more untenable.
What works/doesn't work & what users like/don't like
Part of our research will explore what current and past alumni of MoneyGirl enjoyed about the experience, what they liked and didn't like and how we can use this information going forward in order to create the best solution for the MoneyGirl customer.
What price would work best
Part of what makes a great product is finding that fine line of optimal pricing. There is currently a conflict that MoneyGirl is experiencing between their Business to Customer(B2C) and their Business to Business(B2B) customers.
Branching out to new audiences
In addition to how online learning can be handled, we're exploring where new audiences can be found and how to engage them in the best way for the MoneyGirl brand.
What can MoneyGirl do differently?
There are a lot of different financial products on the market and being able to differentiate and show off WHY MoneyGirl is the best product for their audience is key to building the MoneyGirl brand. We will be investigating how MoneyGirl can engage people in a way that makes them feel heard and as an individual rather than just another line in the accounting book.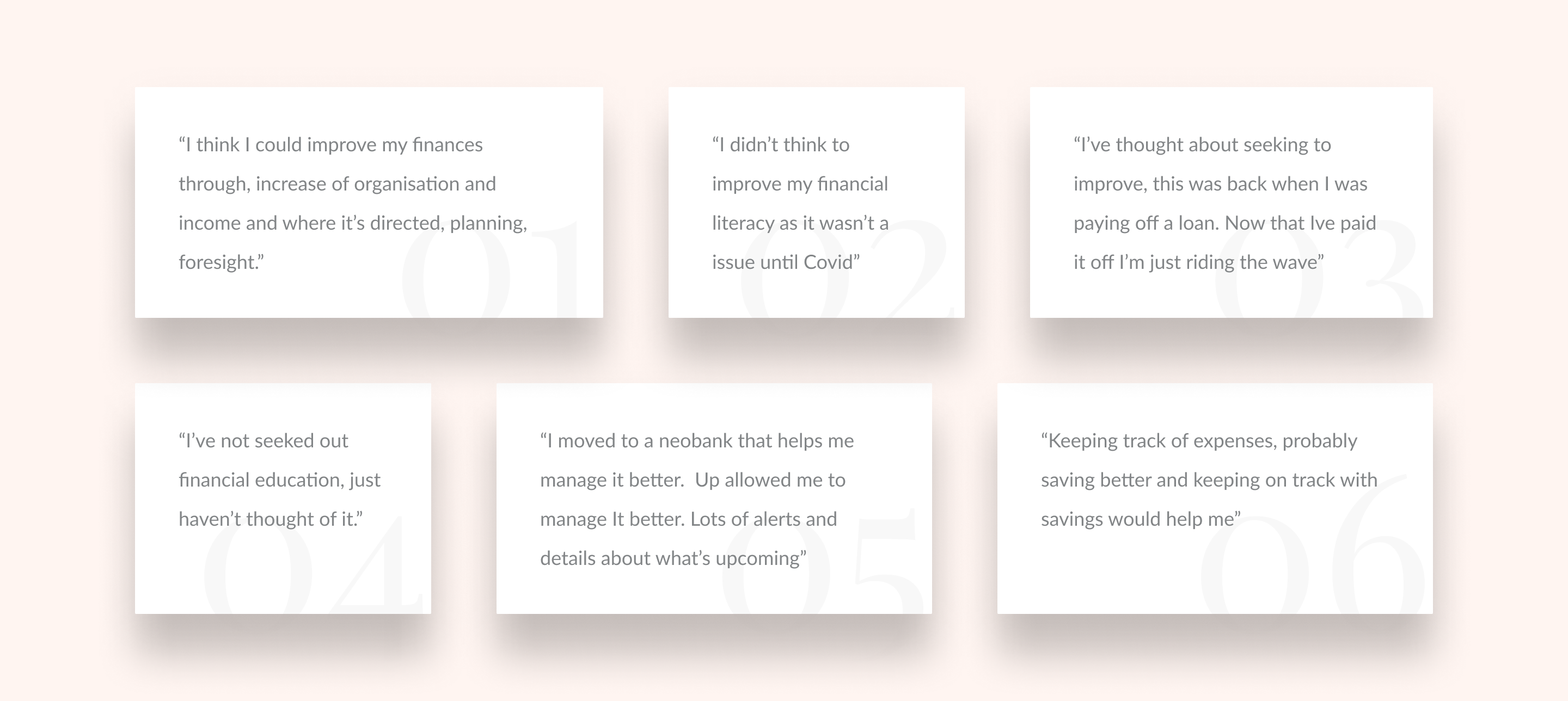 Interviews
One on one online Zoom-based interviews were conducted with people who were around the age and target market of MoneyGirl. These interviews allowed us to gain a more in- depth understanding of people's attitudes surrounding financial literacy products and their understanding of their own financial literacy.
3 interviews were conducted over Zoom

Questions surrounded the individuals confidence in their own financial literacy, their experience with financial education and their own perception of finances.

During these interviews I was interested to see how people felt about their own financial literacy. These things can often be a difficult thing to quantify or discuss, so I was interested in how people answered.
Surveys
Multiple different surveys were conducted over the course of my research,
Google Forms & Facebook

Through a collaborative effort our team constructed a survey to provide to the users of the MoneyGirl Facebook page. This page featured people who have been through MoneyGirl courses as well as people who found the community and information that the group provided beneficial to them.

The Survey, presented in Google forms, collected data based on the variety of people it was exposed to and used selective questioning to capture more specific data relating to those who have experienced the product.
Twitter Polls

Informal twitter polls have been utilised to grab a broad idea and understanding of people's attitudes regarding their own financial situations and how products like MoneyGirl could benefit them as well as gauge their expectations or understanding of such products.
Limitations
Limited access to Facebook survey participants

Limited Interview participants

Limited access to target demographic - COVID and locale issues
Afirmative
People enjoy the product a lot

Previous alumni see the value

Genuine improvement in peoples lives

High social media usage amongst user base

People seek out new education that they find interesting and valuable
Potential
Potential customers are unsure about pricing

People don't actively seek improving their financial literacy

People see higher value in face-to-face learning over online

People have their own immediate ideas of how they could improve
Pain points
People experience 'sticker shock'

Cross pollination of corporate product and consumer product pricing

People tend to rate their financial literacy as "fine"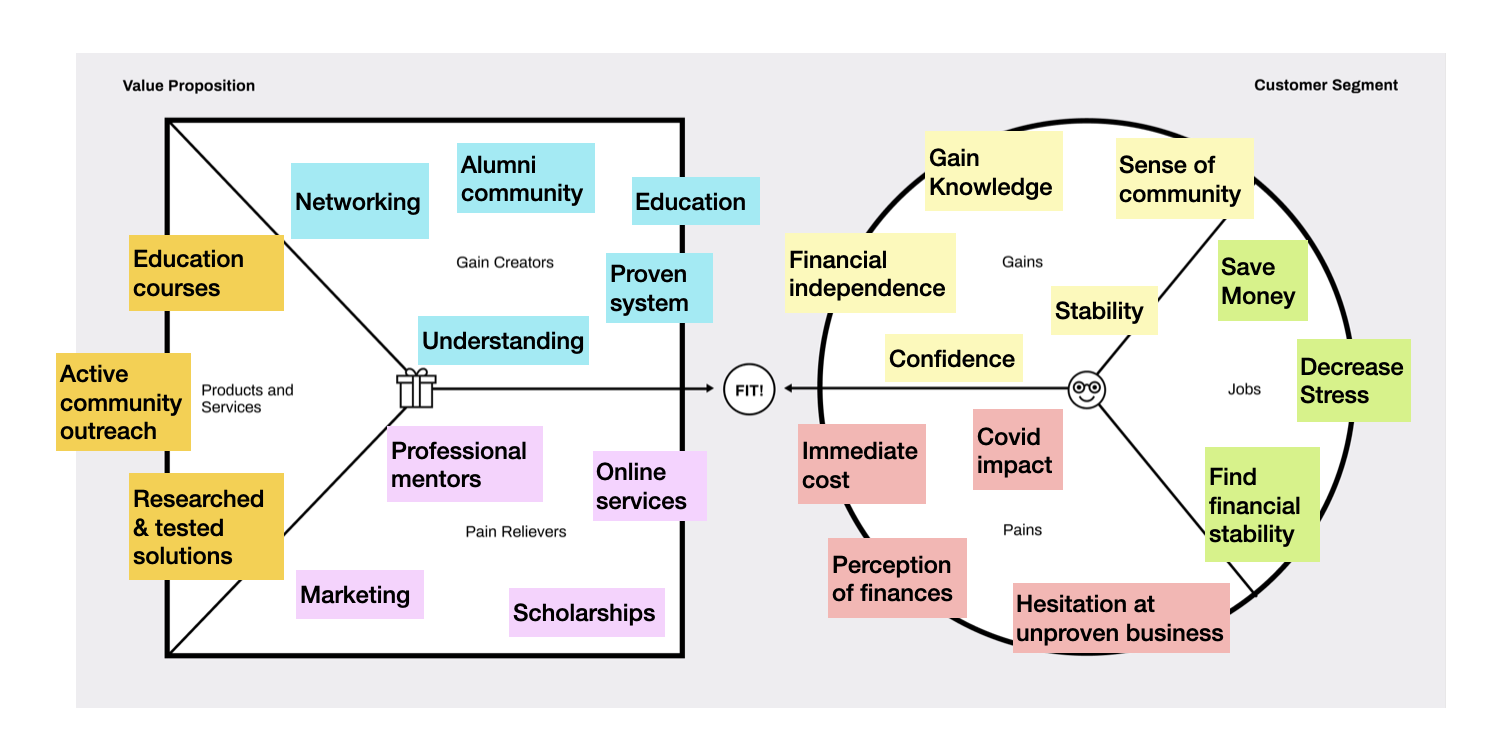 Value Mapping
I created a Value Map to help demonstrate where MoneyGirl can fill the gaps in a users desires.
On the right is outlined what consumers are looking to gain services such as MoneyGirl, what pains they're currently experiencing and the actions(jobs) they want to get out of it.
And on the left we've outlined what gains the product can create for the customer, what products and services a offered in abstract and how the product can relieve the pain points of the consumer.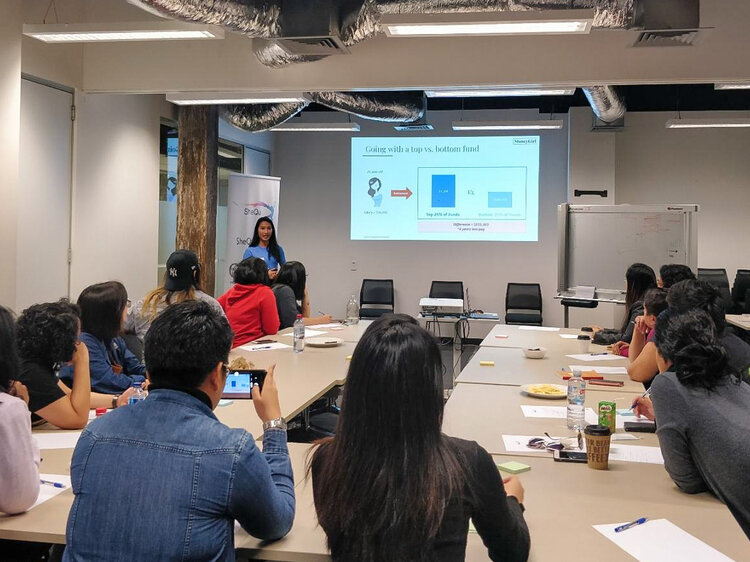 Participant Profiles
Our research demonstrated key aspects of the MoneyGirl Market. These include:
Highly connected

The audience of MoneyGirl is super connected. These people are used to the idea of online learning, but have high expectations of what they want to get out of such experiences, how they personally learn best and what they're willing to pay for an online delivery of coursework.

Youth

Young people are a key demographic for MoneyGirl. The business has identified a gap in the market to assist young people, with an emphasis on women and minorities, to build their financial knowledge where tradition education systems have underserved them or missed them entirely.

Key Markets

Women

People of colour

Refugees and migrants

Minorities and underserved/overlooked communities are key to MoneyGirl. When these communities see a product that has been developed from the ground up for them it can make them feel included in a segment of society that has for decades kept them on the outside. MoneyGirl helps empower these groups and they are appreciative when businesses can make them feel included and valid.
Recommendations
Based on the above findings and analysis, I provided a number of recommendations to MoneyGirl for their business going forward
Bite sized 'Passive' education on social media will help build a consumer audience.

Video essays are an up and coming education form that is worth investigating.

Podcasting is a good way to generate audience while demonstrating value and the knowledge of your teachers.

Building a community and social brand across social media services

Services such as Discord or Slack enable connection and collaboration between alumni allowing for more frictionless connection.

Using branding to differentiate between consumer and business products will help separate the products.
Report conclusion
MoneyGirl has an excellent product that their alumni love; this cannot be understated.
The MoneyGirl alumni are the secret weapon in convincing people that the product is one that can be trusted and will change their lives. MoneyGirl has a strong and thriving community that can be leveraged to not only provide a social connection for those who have been through the program but also demonstrate what the MoneyGirl product is capable of.
By building more spaces that allow the MoneyGirl audience to connect, not only will MoneyGirl be providing more vibrant and varied spaces for their alumni but also showcasing exactly what is special about MoneyGirl and what MoneyGirl can do for the next person who signs up.